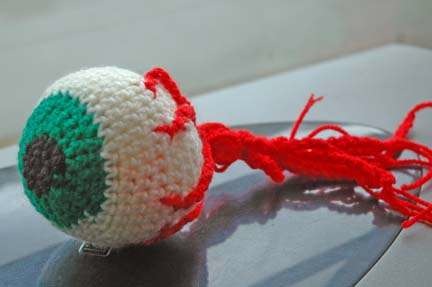 so evidently september 12th is international crochet day - who knew? i wonder how these things actually get decided...like who is the uber hooker in charge of this...or was it a company that promoted it to sell their wares? but no, a bit of google-fu unearths the 'fact' that it was started over on the
crochetville forums by jimbo
...woe, this internet shit does work!
well, as i've obviously missed it every other year - i'll have to make up for it this year by doing exactly what i was planning on doing anyway...crocheting topless on the beach in ibiza! yup = i'm back on playa d'en bossa from the 9th and sooo looking forward to ten fucking days of sun, crochet, cocktails, and dancing my ass off! big big thanks to my current employer -
hyper
- for taking 25 of us there for a long weekend - then allowing me the days off to stay on for another week!
i can't wait! i've got a really close friend there -
neil of inkadelic tattoo
- who means so much to me. he really dragged me out of a shit low period in my life last year when i was there with him. i was deeply depressed by the cancellation of my engagement to assface...neil drowned me in red wine, told me to grow up and not give a fuck - and a week later i met my current blondeboy and life has been amazing ever since.
but uh-oh. last year i crocheted a lovely dog bone for neil's doggie scratch - and i've not made a damn thing in ages...hate to show up empty handed but i may have to!
i'm soo behind on all my projects - and just realised that hallowe'en is looming on the horizon and i want to make lots of creepy presents for then too.
so latest to do list is:
freeform project - sooo behind
key lime pie slice for annmarie - um, needs to be done tomoro!
celestial star for ravelry friend - soon
pumpkins and bats and spiders and other creepy goodness - hmmm...i have time.
baby blanket for my cousin peewee's baby - before oct 20th!
ibiza beach project - sort now.
damn i really should go offline and get started...bye. x